The NMHC Rent Payment Tracker shows that apartment residents are still paying their rent. In fact, full-month rent payment data for May could very well finish ahead of April. That is a big positive for the apartment industry. But it's not the only metric we should be watching.
The tracker is a useful tool in that it follows the payment of existing apartment households, providing us a good snapshot of the industry's health. However, that view is also limited—the tracker was created to gauge the impact of the pandemic on residents' ability to pay but was not intended to gauge the overall health of the apartment industry. It cannot tell us about the amount of rent collected, changes in rental rates for new residents, shifts in occupancy or variation amongst class types. All of these factors are also important indicators of industry performance present and future.
Here are four areas where the data are beginning to suggest shifts that may indicate some additional stresses could be coming.
Underlying Fundamentals Indicate Some Weakness
NMHC's Quarterly Survey of Apartment Market Conditions tracks four indexes—Market Tightness, Sales Volume, Debt Financing and Equity Financing. All four came in well below the breakeven level of 50 in April, indicating worsening conditions.
However, the Market Tightness indicator is worth a little more consideration. The index reflects the trend in vacancy and rent. It indicates increases in vacancy and declines in rents or the reverse. As noted above, an index number above 50 indicates tightening conditions (increasing rents and declining vacancies), a sign of market strength, and below 50 means looser conditions.
The index dropped significantly to 12 in April 2020, down from 52 in April 2019. Most respondents (82 percent) indicated looser conditions than three months ago. This followed January's Market Tightness Index results, which had also indicated looser conditions as respondents reported concerns about the amount of new deliveries in certain markets.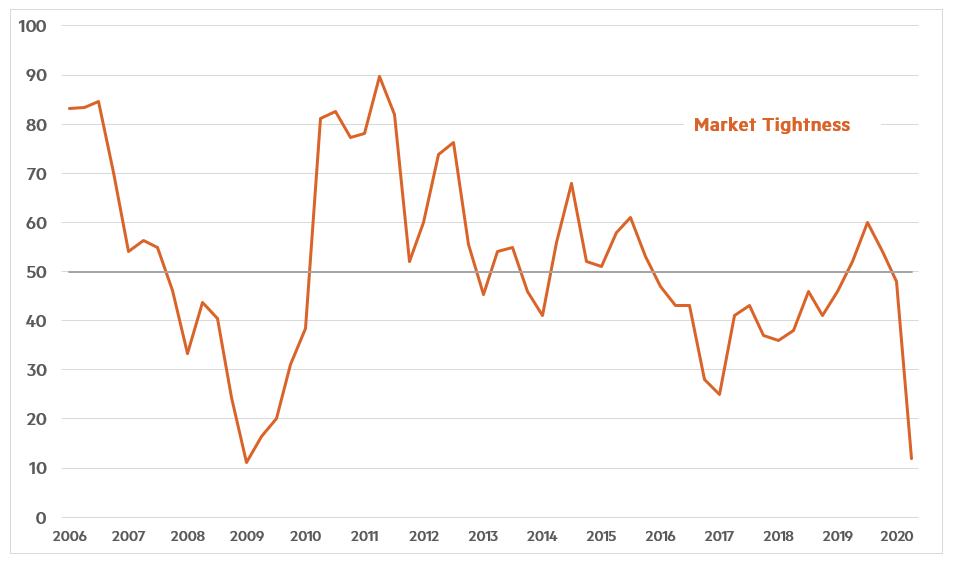 Other Market Metrics Show Mixed Results
We now have a full month of industry and market data available to us, and it was largely a mixed bag. Of a variety of leading property management software providers, none indicated large increases in vacancy. In fact, many noted increases in lease renewals and month-to-month lease extensions. MRI Software, for example, reported a 15 percent decline in vacancies and a 4 percent increase in lease renewals from mid-March to the end of April compared with a year prior. These trends are perhaps unsurprising given that shelter-in-place orders were still in place in many markets and a lot of uncertainty around jobs as businesses remained shut.
However, there were other metrics that showed less market stability. The vast majority of residents continued to pay their rent in April—the NMHC Rent Payment Tracker showed just a 3.1 percentage point decline year over year—but a number of data providers reported some softness around rent pricing and increased concessions, as well as some noticeable differences in different market segments.  
On the rent side, RealPage reported April executed leases were down 4.5 percent year over year,with the change especially pronounced in the Class A asset class. Similarly, Yardi noted that, in its Matrix top 40 markets universe, properties occupied by those that could be characterized as "renter by necessity" were outperforming those the company termed "lifestyle renter" assets, meaning suffering less severe rent declines. 
Construction Data Point to More New Deliveries
Hoyt Advisory Services completed demand research through 2030 and identified that we need to build an average of 328,000 new apartments at a variety of price points every year to keep up with demand. That's a lot of construction—we've only produced that number of new apartments three times since 1989.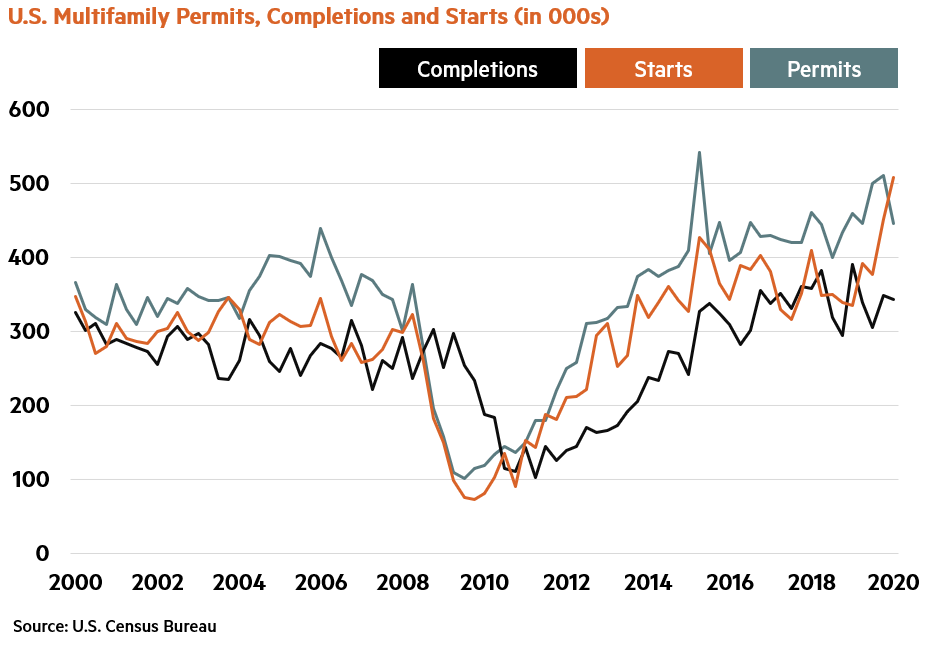 However, in this time of COVID-19, NMHC's construction survey series has largely shown that multifamily construction is continuing, as most jurisdictions deemed residential construction an essential activity. While more than half of the survey's respondents have continuously noted delays, construction has largely continued. This means that many of these properties under construction will begin lease-up in the coming months.
A previous issue of Research Notes identified several metro areas where new supply was already on track to outpace estimated apartment demand. These markets included metros like Pittsburgh, Nashville, Salt Lake City and Chicago. Too many deliveries can create a drag on the local apartment market, resulting in a lot of downward pressure on rents. But before the pandemic hit, these markets were also some of the most attractive places to move; if we see short-term issues with this new supply, it will be hard to initially determine whether it is true lack of demand for the product or lack of demand for a product that has come online during a pandemic-induced economic shutdown.
Demand Remains Unknown
While these fundamentals are certainly concerning, it is still too early to tell what will happen definitively. As the pandemic drags on, we are starting to gain more knowledge about who is currently being negatively affected by the crisis.
The U.S. Census Bureau, for one, recently released the first set of results from its new Household Pulse Survey. The weekly survey tracks multiple indicators for U.S. renter households during this crisis, looking at a variety of factors from employment status to amount of time spent on education to food and housing security. Both apartment and single-family renter households were surveyed.
The pulse survey found that 19.7 percent of all renters either were not able to pay their rent on time or deferred their rent last month. (Note this is not an overall monthly rent payment measure.) In addition, one-third of renters had either no or slight confidence that they could pay next month's rent. Almost half (47.5 percent) of all households also reported they or someone in their household had lost employment since March 13.
It's clear the crisis is affecting different renter households in a variety of ways and that lower-income households are suffering more. But many questions remain, including how many of those households will  be brought back to work once states are fully open again.
About Real Estate Intelligent Marketing (REIM):
REI Marketing is an innovative Real Estate Marketing Company that offers distinctive real estate services to developers and multifamily investors.  We are a vibrant, dedicated team of industry professionals with international experience in marketing and multifamily investment.